Incoloy 800, 800H, and 800HT are nickel-iron-chromium alloys with superior corrosion resistance, high-temperature strength, and excellent resistance to stress-corrosion cracking. These qualities make them popular in power plants, chemical plants, and oil refineries.
Incoloy 800 pipes and tubes come in various grades, including Incoloy 800, 800H, and 800HT. The standard form is seamless tubes with diameters ranging from 1/8" to 6". Incoloy 800 and its variations offer high flexibility and toughness, making them easy to fabricate into complex shapes. These pipes and tubes also have comparatively low carbon content, making them resistant to sensitization and intergranular corrosion.
ASTM B407 Incoloy® Alloy 800 Rectangular Pipes, Incoloy Alloy 800 Tube, Incoloy Alloy 800H Square Pipes, Incoloy 800HT Tubing, Incoloy 800 Pipe, ASTM B514 Incoloy Alloy 800H ERW Tubes, Incoloy 800HT Tube Manufacturers India.
Incoloy 800H pipes and tubes possess higher carbon content levels, making them ideal for high-temperature applications up to 1100°C (2000°F). Incoloy 800H is commonly used in petrochemical processing, ethylene pyrolysis, and furnace components. This alloy is more resistant to oxidation, sulfidation, and carburization, making it useful in applications where such wear and corrosion are a concern.
Incoloy® Alloy 800 Pipes and Tubes, Incoloy Alloy 800H Pipe, Incoloy 800 Seamless Pipe, Incoloy 800H ERW Pipe, Incoloy Alloy 800HT Tubing, Nickel Alloy 800HT Welded Tubing Exporter, Incoloy 800 Pipe Manufacturers in India.
Incoloy 800HT Pipes & Tubes is a highly corrosion-resistant alloy that can operate up to 1000°C (1832°F). This alloy is ideal for chemical processing, heat-treating, and pressure vessels, among other applications. Incoloy 800HT is especially useful in volatile environments, making it an excellent choice for boilers, heat exchangers, and super heater tubes.
Incoloy 800 pipes and tubes offer several benefits, such as high-temperature strength, superior corrosion resistance, and excellent flexibility. These tubes and pipes are also easy to fabricate into complex shapes, making them ideal for custom fabrication requirements. Furthermore, Incoloy 800 pipes and tubes can endure temperatures of up to 1000°C, making them perfect for demanding industries, particularly oil and gas refineries.
Incoloy 800, 800H, and 800HT pipes and tubes are versatile alloys with superior mechanical, thermal, and corrosion-resistant properties. From their various applications and uses to their impressive benefits, they are the perfect choice for high-temperature and high-pressure environments.
Incoloy Alloy 800 Pipe Specifications
| | |
| --- | --- |
| Pipe Specifications | ASTM B407, B514 / ASME SB407, SB514 |
| Tube Specifications | ASTM A213, A269, A249, A511, A554 / ASME SA213, SA269, SA249, SA511, SA554 |
| Dimensions | ANSI/ASME B36.19M, ANSI/ASME B36.10M |
| Seamless Pipe & Tube Size | 1/2″ NB – 16″ NB |
| Welded Pipe & Tube Size | 1/8″NB TO 30″NB IN |
| EFW Pipe & Tube Size | 6″ NB – 24″ NB |
| Tube Outside Diameter | 6.00 mm OD up to 914.4 mm OD, Sizes up to 24" NB available Ex-stock, OD Size Steel Tubes available Ex-stock |
| Thickness | 0.35 mm – 50 mm |
| Specialized in | Large Diameter Pipe Size |
| Schedule | SCH5, SCH10, SCH20, SCH30, SCH40, STD, SCH80, SCH 80S, SCH60, SCH80, SCH120, SCH140, SCH160, SCH XXS, SCH XS |
| Type | Seamless Pipes, ERW Pipes, Welded Pipe, Fabricated Pipes, Electropolished Pipe, Polished Pipe, Hollow Pipes |
| Form | Round, Square, Hydraulic, U Shape, Rectangular, Pan Cake Coils, Coiled, Hex, Honed, Etc |
| Length | Single Random, Double Random & Required Length. |
| End | Plain End, Beveled End, Treaded End |
Incoloy 800H Pipes and Tubes Price List
| Price List of Incoloy 800 Pipes and Tubes | Incoloy 800H Pipes and Tubes Price in India (INR) | Incoloy Alloy 800HT Pipes and Tubes Price in USD | Incoloy 800 Pipes and Tubes Price in UAE (Dirham) |
| --- | --- | --- | --- |
| Incoloy 800 Tube Price | ₹ 276 | $ 6.79 USD | 9.37 AED |
| Price of Incoloy 800H Seamless Pipes | ₹ 580 | $ 6.60 USD | 20.50 AED |
| Nickel Alloy 800HT Price | ₹ 270 | $ 3.70 USD | 8.90 AED |
| Incoloy Alloy 800 Pipes Price List | ₹ 1200 | $ 17.97 USD | 45.10 AED |
| Incoloy Steel Pipe 800H Price Per Kg | ₹ 186 | $ 2.32 USD | 5.50 AED |
| 2 inch Incoloy Alloy 800 Pipe Price | ₹ 566 | $ 63.10 USD | 20.70 AED |
| Incoloy 800H Pipe Price Per Kg | ₹ 470 | $ 5.30 USD | 25.90 AED |
| Incoloy Alloy 800HT Pipe Price | ₹ 254 | $ 3.50 USD | 8.50 AED |
Incoloy 800HT Pipes and Tubes Technical Data Sheet
Incoloy 800 Pipes and Tubes Equivalent Grade
| STANDARD | UNS | WNR. | AFNOR | EN | JIS | BS | GOST | OR |
| --- | --- | --- | --- | --- | --- | --- | --- | --- |
| Incoloy 800 | N08800 | 1.4876 | Z8NC32-21 | X10NiCrAlTi32-20 | NCF 800 | NA 15 | ЭИ670 | XH32T |
| Incoloy 800H | N08810 | 1.4958 | Z8NC32-21 | X10NiCrAlTi32-20 | NCF 800H | NA 15(H) | ЭИ670 | XH32T |
| Incoloy 800HT | N08811 | 1.4959 | - | X8NiCrAlTi32-21 | NCF 800HT | NA 15(HT) | ЭИ670 | XH32T |
Incoloy Alloy 800 Pipes and Tubes Manufacturing Process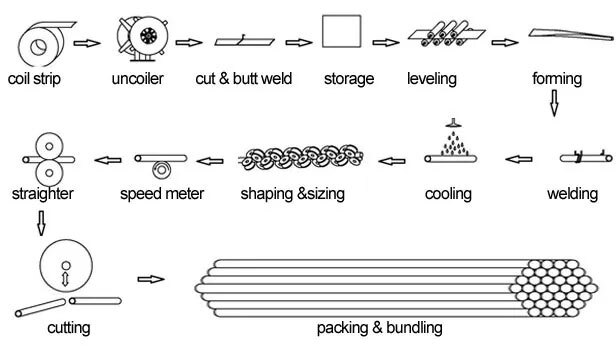 Common Types Of Incoloy 800H Pipes and Tubes
Incoloy 800 Seamless Pipe
Incoloy 800H Welded Pipe
Incoloy 800HT ERW Pipe
Incoloy 800 EFW Pipe
Incoloy 800H Seamless Tube
Incoloy Alloy 800HT Welded Tube
Incoloy Alloy 800H Capillary Tube
Incoloy Alloy 800HT Heat Exchanger Tubes
Incoloy Alloy 800 Square Tubes
Other Type Incoloy Alloy 800H Pipes and Tubes
Nickel Alloy 800 Tubes
Schedule 40 Incoloy Alloy 800H Pipe
Inconel Alloy 800HT Welded Pipe
Incoloy Alloy 800 High pressure Pipes
Incoloy 800H Square Pipe
Incoloy 800HT Pipes Manufacturer in Mumbai
Incoloy 800 Round Tubing
Incoloy Alloy 800H Rectangular Tube
Incoloy 800HT Electropolished Pipe
Inconel Alloy 800 Coil Tubing
Nickel Alloy 800H Thin Wall Tube
ASTM B407 Incoloy® Alloy 800HT Round Pipe
UNS N08800 Pipes
Incoloy 1.4876 Seamless Tubing
Large Diameter Incoloy 800H Pipe
Incoloy Alloy 800HT Pipe
Incoloy 800 Oval Tubing
Incoloy 800H Pipe Manufacturers in India
Incoloy 800HT Pipe Suppliers in India
Incoloy Alloy 800 Rectangular pipe
ASME SB407 Incoloy Alloy 800H Pipes
Incoloy 1.4958 Thick Wall Pipe
Incoloy 800HT Tubes Suppliers in India
Incoloy Alloy 800 Polished Pipe
Incoloy Alloy 800H Hollow Pipe
1.4959 Seamless Pipe
Incoloy 800HT Welded Pipe
Nickel Alloy 800 Tube
Incoloy 800H Pipe Manufacturers in India
Incoloy Alloy 800 Industrial Pipes
Inconel Alloy 800H Hydraulic Tubing
Incoloy 800 Tubes Suppliers in Mumbai
ASME SA213 Incoloy Alloy 800HT Tubes
ASTM A213 Incoloy Alloy 800 Welded Tube
UNS N08800 Tubing
Incoloy Alloy 800H Boiler Tubes
Incoloy 800HT Pipe Suppliers in Mumbai
Nickel Alloy 800 Thick Wall Tube
Incoloy® Alloy Tubing Chemical Composition
| Grade | Ni | Fe | Cr | Cu | Ti | Al | C | Mn | S | Si |
| --- | --- | --- | --- | --- | --- | --- | --- | --- | --- | --- |
| Incoloy 800 | 30.0-35.0 | 39.5 min | 19.0-23.0 | .75 max | .15-.60 | .15-.60 | .1 max | 1.5 max | .015 max | 1.0 max |
| Incoloy 800H | 30.0-35.0 | 39.5 min | 19.0-23.0 | .75 max | .15-.60 | .15-.60 | .05-.10 max | 1.5 max | .015 max | 1.0 max |
| Incoloy 800HT | 30.0-35.0 | 39.5 min | 19.0-23.0 | .75 max | .25-.60 | .85-1.20 | .06-.10 max | 1.5 max | .015 max | 1.0 max |
Incoloy 800 Pipes Mechanical Properties
| Density | Melting Point | Tensile Strength | Yield Strength (0.2%Offset) | Elongation |
| --- | --- | --- | --- | --- |
| 7.94 g/cm3 | 1350-1400 ℃ | Psi - 75,000 , MPa -520 | Psi - 30,000 , MPa - 205 | 30 - 35 % |
Incoloy 800H Pipes and Tubes Industrial Application
Oil & Gas Industry
Power Plant Generation
Petrochemical Industry
Chemical Industry
Aerospace Industry
Sugar Industry
Marine Industry