Stainless steel is a versatile and durable material that is increasingly used in various industries, including construction, manufacturing, and water treatment. Stainless steel fittings, like the elbow, have become popular due to their excellent corrosion resistance and long lifespan. The stainless steel elbow is a fitting critical in various piping systems, particularly plumbing and HVAC.
ASME/ ANSI - B16.9 Elbow, 45° Elbow, Steel Pipe Elbows, Buttweld 3D Pipe Elbow, Butt Welded Elbow, Reducing Elbow, Short Radius Buttweld Elbow, Buttweld 1.5D Elbow, Butt weld Elbow 45 Degree, 45 Degree Seamless Elbows, Buttweld Elbow Manufacturers in India.
The Stainless Steel Elbow is primarily classified based on its orientation angle and degree of bend. The common elbow angles are 45, 90, and 180 degrees. Meanwhile, the degree of bend determines how sharply the pipe turns. The most common elbow degrees are 1D, 1.5D, and 3D. The dimension 'D' refers to the diameter of the elbow. Other types of stainless steel elbows include short radius, long radius, and reducing elbows.
45 Deg. Welded Pipe Elbow, Buttweld 1D Pipe Elbow, Long Radius Pipe Elbow, 90 Degree Seamless Elbows, MSS-SP-43 90 Degree Elbows, Stainless Steel Elbow, 180 Deg. Elbow, Carbon Steel Elbow, ASME B16.9 Pipe Fittings Elbow, 90° Elbow, Buttweld 5D Pipe Elbow, Buttweld LR Elbow Suppliers in India.
Stainless steel elbows have a broad range of applications in various industries. First and foremost, they are widely used in plumbing systems to join pipes. They also help change the flow direction in piping systems, routing the fluid through specific channels. In the HVAC industry, stainless steel elbows join ducts and improve air distribution. In wastewater treatment facilities, they prevent the water from backwashing. Additionally, stainless steel elbows are incorporated in heat exchangers, pressure vessels, and boilers.
Stainless steel elbows are used in many sectors for their exceptional performance, reliability, and durability. In the marine industry, they are used in shipbuilding and offshore oil rigs. The food and beverage industry often uses stainless steel elbows because they are safe, non-corrosive, and easy to clean. Similarly, the pharmaceutical, chemical, and petrochemical industries benefit from using stainless steel elbows, as they withstand the extreme temperatures and corrosive substances found in their processes.
The obvious perk of using stainless steel elbows over other materials is their superior corrosion resistance. But that's not all; cross-contamination is a major issue in product manufacturing, especially in the food and beverage sector. Stainless steel elbows help to prevent cross-contamination due to their smooth, non-porous surface, which discourages bacterial growth.
The stainless steel elbow is an integral component of many piping systems in various industries. It comes in different types, degrees, and sizes, making it a versatile fitting. The applications of stainless steel elbows range from plumbing and HVAC to offshore oil rigs and chemical industries. The numerous benefits of using stainless steel elbows, their corrosion resistance, non-reactivity, easy maintenance, and sustainability, make them an excellent choice for many users.
Elbow Specifications
Specifications
ASTM A403 / ASME SA403
Dimensions
ASME/ANSI B16.9, ASME B16.28, MSS-SP-43, BS4504, BS4504, BS1560, BS10
Size
Seamless Butt Weld Fittings: 1/2" - 10"
Welded Butt Weld Fittings: 1/2" - 48"
Thickness
SCH10, SCH20, SCH30, STD SCH40, SCH60, XS, SCH 80, SCH 100, SCH 120, SCH 140, SCH 160, XXS available with NACE MR 01-75
Type
DN15-DN1200
Bending Radius
R=1D, 2D, 3D, 5D, 6D, 8D, 10D or Custom MSS Sp-43 Stainless Steel Pipe Fitting
Size Range
½" NB to 24" NB in Sch 10s, 40s, 80s, 160s, XXS. (DN6~DN100)
Elbows
Angle : 22.5 deg, 30deg, 45 deg, 90 deg, 180 deg, 1.0D, 1.5D, 2.0D, 2.5D, 3D, 4D, 5D, 6D, 7D-40D.
Standard: ASME B16.9, ASME B16.28, ASME B16.25, MSS SP-75 DIN2605 JISB2311 JISB2312 JISB2313, BS, GB, ISO
Connection
Welding
Manufacturing process
Forge, Cast, Push, Press, etc.
Key markets and industries

Bitumen upgraders.
Heavy oil refineries.
Petrochemicals and acids.
Nuclear power (mostly seamless).

Test Certificates
EN 10204/3.1B
Raw Materials Certificate
100% Radiography Test Report
Third Party Inspection Report, etc
Specialized manufacturer of
90 Deg Elbows, 45 Deg Elbows, Tees, Crosses, Reducers, Pipe Cap, Stub End, Pipe Bend
Seamless Elbow Price List
| Price List of Buttweld Elbow | 90° Long Radius Elbow Price in India (INR) | Buttweld Reducing Elbows Price in USD | Buttweld Seamless Elbow Price in UAE (Dirham) |
| --- | --- | --- | --- |
| Buttweld Elbow Price List | ₹ 938 | $ 31.33 USD | 49.61 AED |
| ASME B16.28 Buttweld Elbow Price | ₹ 451 | $ 9.85 USD | 31.50 AED |
| 90 Deg. Elbow Price List | ₹ 2410 | $ 27.21 USD | 127.27 AED |
| Long Radius Elbow Prices | ₹ 1387 | $ 19.00 USD | 64.44 AED |
| Price of Short Radius Elbow | ₹ 1807 | $ 30.78 USD | 96.30 AED |
| Buttweld 5D Elbow Price Per Kg | ₹ 487 | $ 6.85 USD | 26.50 AED |
| Welded Elbow Price | ₹ 5800 | $ 69.17 USD | 256.30 AED |
| 45 Deg. Elbow Price | ₹ 1320 | $ 18.82 USD | 56.11 AED |
Welded Elbow Technical Data Sheet
Pipe Elbow Manufacturing Process
Common Types Of Buttweld Elbow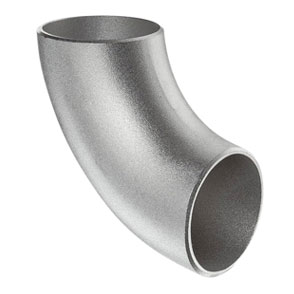 Long Radius Elbow
45° Elbow
90° Elbow
1D Elbow
180° Long Radius Elbow
180° Short Radius Elbow
Other Type Elbow
Stainless Steel 304 Butt weld 45 Deg Elbow
Schedule 10S Elbow Manufacturers in Mumbai
Monel 45 Degree Elbow Suppliers in India
ASME B16.9 Butt weld Elbow
Buttweld Long Radius Elbow
Butt weld Short Radius Elbows
MSS SP-48 Welded Elbow
Buttweld 90 Degree Elbow Manufacturer in Mumbai
ASME B 16.9 5D Elbow
ASTM A403 Buttweld Elbow
Alloy 20 Seamless Elbow
Short Radius (SR) Elbow
Low Temperature Carbon Steel Elbow
Nickel Alloy Elbow
Sch 20S Butt weld Elbows
1.5D Elbow
MSS SP-43 180 Deg Elbow
Long Radius (LR) Elbow
Titanium Pipe Elbow Suppliers in Mumbai
Incoloy Buttweld Reducing Elbows
Super Duplex Steel SR Elbow Suppliers in Mumbai
Hastelloy Elbow
Inconel Pipe Elbow
SS 316 Buttweld Elbow Manufacturers in India
Nickel Alloy Short Radius Elbow Suppliers in India
Weldable Elbow
Alloy Steel Elbow
Duplex Steel Elbow
Elbow Industrial Application
Oil & Gas Industry
Power Plant Generation
Petrochemical Industry
Chemical Industry
Aerospace Industry
Sugar Industry
Marine Industry